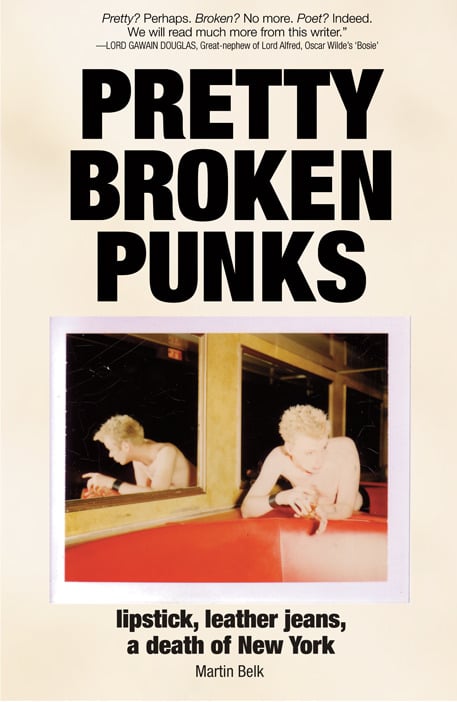 ***Special Advance Offer***
PRETTY BROKEN PUNKS: lipstick, leather jeans, a death of New York
£

15.00

/ On Sale
---
---
PRETTY BROKEN PUNKS is the NEW nonfiction narrative memoir by Martin Belk, expat New Yorker and a former producer of Squeezebox! - the hottest NYC scene since Max's Kansas City.
book info here: PrettyBrokenPunks.com
SPECIAL IMPORT OFFER:
At Squeezebox!, the cover charges were kept low, and depended on artists and enthusiasts alike who support small, innovative projects (as well as rocking with their c*cks out). To that end, Polwarth Publishing is offering a flat £15 (about $24 US), ONE-TIME SPECIAL on advance purchases of this paperback 1st edition.
*INTERNATIONAL SHIPPING IS INCLUDED*
***SPECIAL ADVANCE OFFER***
Special advance offer:
£15 FLAT anywhere in the world. Shipping/postage INCLUDED.
Rules:
1. All will be signed by the author
2. Shipping will be by standard insured UK Royal Mail, or US Postal Service, regular mail.
3. IF you would like guaranteed shipping,
please email us here
4. All sales final - thank you
click *add to cart* then *cart* on left to order.
______
The Regular Prices:
Regular price is: £20.00 ($32 USA)
Shipping/handling: £5 UK-Europe / £10 international-USA
Regular final price: £25 UK /(£30 = $48 USA)
you will be saving up to 50% with this offer!
_____